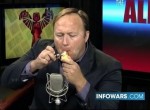 CHRONICLE.SU RADIO #HATE USUALLY AIRS SOMETIME AFTER MIDNIGHT, BUT IT CAN STRIKE AT ANY MOMENT. HATE RADIO IS SO UNPREDICTABLE, EVEN STAFF REPORTERS DON'T KNOW WHEN IT WILL HAPPEN NEXT. CHECK THIS PAGE DAILY FOR IMPORTANT NEWS RADIO UPDATES.
If we're on live, you'll hear it with the little play button below.
Just click play, . . .